The church is not a place to attend but to participate and grow. Our goal is to glorify God through discipling and serving others.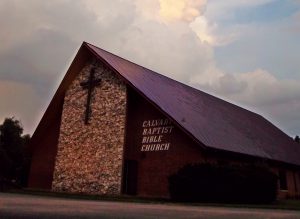 We believe that the church is responsible to help one another grow in Christ. We apply this in a variety of ways including Bible studies for all ages, prayer meeting, small groups, and fellowships. Below is a brief description of the many ministry opportunities at Calvary. 
Check our church calendar page to verify the days and times these ministries meet.
Psalm 51 – Calvary participates in this local ministry with Christians from around the community to visit the local juvenile detention center on a weekly basis (typically Wednesday evenings), ministering and teaching the Gospel. Psalm 51 also works to connect the kids with local churches when they are released.
Saints Prison Ministry – An organization founded in 1982 to provide a gospel outreach to men and women incarcerated throughout the United States via softball athletic competition between Christian men and prison organized inmate teams. Several men from Calvary participate in this ministry throughout the spring, summer and fall months.
Turkey Bowl – Organized and sponsored by CBBC, Turkey Bowl is typically held in November. This outreach consists of a men's flag football tournament held over 3 days involving local teams in which the gospel is presented (along with good food and athletic competition).
Youth Groups – Open to Junior High & High School age young men and women, CBBC offers Bible studies, short-term missions trips and activities of all kinds. Youth meetings are typically held on Wednesday evenings with activities usually taking place on weekends.
Peoria Rescue Mission – Helping proclaim the gospel to this vital local ministry is a privilege we take seriously.  On a quarterly basis CBBC is responsible for the music and preaching to those in need at the mission in downtown Peoria.
Food Bank – Providing food and the gospel to those with a need is a ministry of CBBC that takes place on the second Tuesday of each month.
Men's Ministries – Strengthening our relationship with God and one another is an important activity for the men at CBBC. This is accomplished through Bible studies, monthly men's prayer breakfasts/fellowships (usually the second Saturday of each month) and meeting at men's homes throughout the summer months for "Meat & Meat" (grilling out, fellowship and Bible study).
Ladies Ministries – Women of all ages participate in CBBC's ladies ministries. Monthly Bible studies on Tuesday evenings and Thursday mornings provide for a time of learning, fellowship, and prayer.  The first Saturday each month is GIZMO (Girls Morning Out), a time for breakfast, fun activities and study of God's word.
Small Groups – In the fall, winter and spring months our small groups ministries meet on Sunday evenings twice a month to build relationships and continue our study of the scriptures.  Groups are assembled at random and change from year to year to allow new friendships to develop.